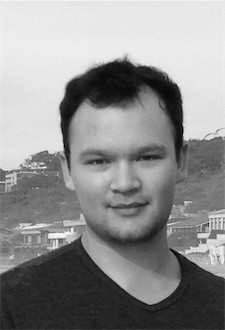 resistance flexibility trainer
Nicholas teaches:
- classes in Resistance Stretching
- classes and private sessions in Resistance Stretching

Nicholas specializes in:
- customized flexibility training
- injury rehabilitation and pain relief
- body awareness and injury prevention
- fast twitch athletics
- performance arts
- exercise mechanics and structural comfort
- postural realignment

Nicholas caters to a diverse variety of people and has skill with fixing pain, mending injuries, and unfolding the flexible body. His clients realize immediate changes from their first session, discovering if resistance stretching is right for them. Nicholas is a huge proponent of safe, efficient and functional movement. He listens to each individual's body and uses his intuition to learn and respond to their needs. You will see results with Nicholas' knowledge and it will come with personal investment in yourself.
I am passionate about sharing my knowledge and helping others improve their overall quality of life. Resistance stretching has been a part of my life since 2003. I met Bob Cooley, the developer of resistance stretching, as a competitive figure skater and found that stretching greatly improved my performance. It helped my competitive career eventually turn into a professional one. I also have a degree in Biology from University of California, San Diego where I focused my studies on human physiology. I further studied resistance stretching in Bob Cooley's elite training program at the Genius of Flexibility studio in Boston, MA. and I have been practicing resistance stretching at StretchWorks since 2011. I have over 12 years' experience with stretching and have gotten to experience stretching as both a client and a successful practitioner.
Stretching is more than just being loose-jointed. Rather, it is about creating the strength to use your range of motion while improving that range of motion. Resistance stretching is an eccentric physical therapy that effectively uses your involvement to unravel tightness in the body and simultaneously generates the ability to use that range of motion. It entails removing impingements, compensations, and weaknesses throughout the body. The outcome is being able to contract muscles further than they've ever been able to shorten; improving posture, increasing stability of movement, and experiencing the body differently than you have ever felt.
Amateur and professional athletes I have worked with:
figure skaters
ballroom dancers
baseball players
golfers
marathon runners and triathletes
and more.

Pain and injury conditions I have worked with:
back pain and injuries
knee pain and injuries
shoulder pain and injuries
neck pain and injuries
nerve impingements
frozen shoulder
scoliosis
and more.