The Genius of Flexibility's Affiliate Certification Program
Santa Barbara, CA
The Genius of Flexibility's Affiliate Training Program is designed to provide an entry-level education of all principles involved in Resistance Flexibility™. This includes self stretching, assisted stretching, mashing, Traditional Chinese Medicine muscle groups, Genetic Personality Type concomitance, and biomechanical analysis. The program is taught by experienced Elite Trainers.
Certification courses are now being offered in Santa Barbara, CA on a monthly basis along with lectures by Bob Cooley.
learn more about the certification program at thegeniusofflexibility.com »
The Genius of Flexibility's Training Archive
Your source for online flexibility & strength training.
The Genius of Flexibility's Training Archive features over 170 streaming instructional videos and photos (self and assisted), energy flow series, personalized flexibility test, online support forums, social features, interactive muscular / meridian maps, and much more.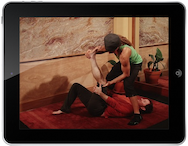 discover the training archive at thegeniusofflexibility.com »
« back to news